The Loop publication and 2017 FFI Fair
The Loop publication and 2017 FFI Fair both happened about the same time this year. The Loop is published quarterly from the FFI in Livingston, MT. Click the pdf file above to read the articles. Bruce Richards has a great piece on Double Hauling. I have a quick piece on Lefty Kreh and a bit of history on constant tension casting. Tom Rupeing has a nice piece on organizing testing events for the southeast. My friend Jason Borger has a new book out on fly casting that is reviewed in this issue as well. If you plan on guiding and teaching casting then "Single-Handed Fly Casting" is a must-have for your library!
We drove out to Livingston, MT for the FFI Fair a few weeks ago with Eric Cook and David Lambert. Had a great time fishing and meeting other instructors from all over the place. George Forster made the 36-hour drive across the heartland of America! He came over from Wodonga, Australia for a visit to the fair. Tom Rupeing flew out to Bozeman and also stayed at the cabin near Carters Bridge. Peter Morse from Australia also made the journey to the fair.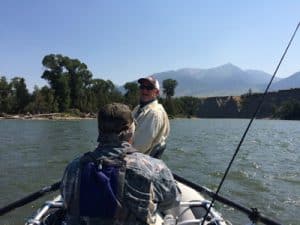 Paradise Valley Rowing the Yellowstone River
Large presence from the NW with the Spey gals and guys! Had a fun gathering over at Olsens with Todd Somsel, Carl Zarelli, Bruce Williams, Rick Williams, Whitney Gould, Mary Ann Dozer, Molly Semenik, Dave Barron, Mark Huber, and so many others from all over. Played around with the long two-handed rods often during the week. Was great to meet Lee Davidson finally and picked up several Spey lines from him.
The evening sessions were great casting into the headwinds funneling into Paradise Valley! We used a Fenwick glass seven-foot rod for practicing distance into the 60 plus MPH wind. Some of the craziest loop formations I have seen in a long time. Happy days by all and I look forward to the next gathering.