Testimonials Fly Fishing Guide School
Testimonials Fly Fishing Guide School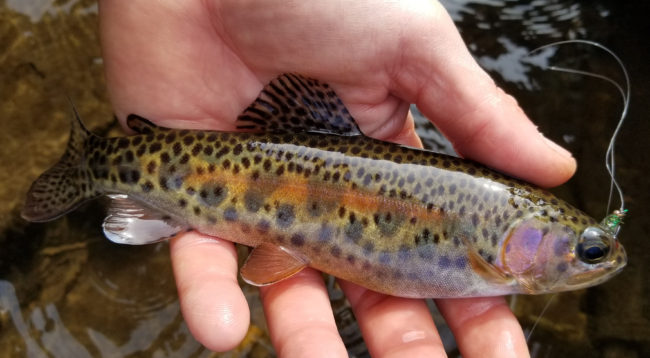 I have learned more about fly casting in 2 hours with Mac Brown than the past 20 years!
Gary Moore - Charlotte, NC 9/6/2018
Jacob Van Der Meer

"I was fortunate to attend Mac Brown's fly fishing guide school. During the course, I learned everything I need to be a successful guide. Mac Brown and his staff have an exceptional knowledge of the sport. Instruction includes fly casting, fly tying, and reading water. I have gained an incredible amount of knowledge in fly fishing. I now have the tools to be a successful guide and to be confident when I go out on the water."
Jacob Van Der Meer
There is gold in those hills and Mac Brown has the tools to help you find it.  I learned more in the past few days than I have in 20 years of fly fishing. Thanks for showing me the light.
John Nabors, Madisonville, GA 11/16/2017
"Mac Brown loves to teach and it shows. I knew there was much about fly fishing that I don't know but I got a much deeper understanding after spending a few hours during a recent casting lesson. Mac is an absolute fly fishing encyclopedia and he shared many useful nuggets. If your desire is to take your game to another level, Mac is the guy who can help. In fact, I've already spoken to him about another guided trip to help me up my game."
Curtis Reeves, Winston-Salem NC 2017
"Mac is extremely knowledgeable and enjoys sharing many years of expertise with others!"
Greg Stuart, Atlanta, GA. 2017
"Brown has stomach pumped more than 13,000 local trout before releasing them. His daily journals have been translated into a computerized data base. He has spent over 30,000 hours learning the art of fly fishing."
Asheville Citizen Times, NC, 1996
"Brown is a scientist as well as a fisherman. He carries a briefcase full of aquatic insects and statistical data to use for his programs. He gathers many of these insects with a stomach pump throughout the year to see which insects are the meal of the day. He lectures often to Trout Unlimited, FFF, and other fly fishing conclaves and shows around the country."
­Chattanooga Times, TN 1993
"Guide Mac Brown from Bryson City convinced me to join him for a day on a stream. Dozens of fish later, with the trout running up to 20 inches in length, I had become an enthusiastic convert to the gospel of delayed harvest."
Blue Ridge Outdoors, Asheville, NC, 1994
"A day on a stream with Mac left me quite impressed. What you get is more than just a day of guided fishing. It is more a personalized instruction tailored to the client's wishes. I landed and released over 50 browns, bows, and brookies in the 10 to 16-inch class. I strongly recommend Mac Brown to anyone wishing to fish the Smokies."
The Angling Report, Miami, FL 1993
"Serious fly fisherman wanting to perfect their skills can participate in the Mac Brown Fly Fishing programs."
Woodall's Southern Journal, 1994
"The hottest name these days is Mac Brown, a fly fishing guide, writer, and lecturer who has received both national and international acclaim. He has been considered by many to be the top fly fisherman to ever have worked the streams in the Smokies."
Asheville Citizen Times, Asheville, NC 1996
"I heartily endorse guide Mac Brown as a source of information and on-stream guidance. The results from a day on a stream with Mac were astounding. I caught scores of trout on dry fly patterns, with a few 20-inch-plus fish."
The Angling Report, Miami, FL 1994
"For those committed anglers, there is Mac Brown Fly Fishing. Mac will take you to "where a river runs through it."
Prince William Journal, VA 1995
"Mac Brown makes it his business to know what trout feed on. An important factor that gives him a decided edge in guiding is that he fishes about 300 days out of the year. Brown teaches techniques that can be used anywhere in the world to catch fish on a consistent basis.­"
Asheville Citizen Times, Asheville, NC 1994
"If fly fishing in the Great Smoky Mountain National Park is a religion, guide Mac Brown is its most ardent disciple."
The Times Picayune, New Orleans, LA 1994
"Mac Brown is a very knowledgeable guide with years of experience teaching entomology, casting fundamentals, reading water, line control, and many other topics."
The Flyline, NC Council of Trout Unlimited, 1993
"Mac Brown offers the highest quality private instruction and backcountry trips in the Great Smoky Mountains."
The International Angler, 1995
Testimonials Fly Fishing Guide School
Testimonials Fly Fishing Guide School from past clients and fly fishing publications. Fly Fishing Guide School is located in the Smoky Mountains town of Bryson City, NC since 1987! Improve your personal skills for raising the bar of your efficiency and catch ratios on the water. You will learn rowing skills, water reading water, fly casting diagnostics, fishing tactics, techniques, and strategies. 
Many of the past clients claim they learned more in one week at the Fly Fishing Guide School than they have in three decades of being self-taught. This is flattering to hear for sure! We are humbled to be able to share our love of the great outdoors teaching others how to teach new folks interested in angling!
North Carolina Fly Fishing Guide School Training in Bryson City, North Carolina
Fly fishing instruction often goes by names such as fly fishing classes, fly fishing school, fly fishing lesson and many other names. They all boil down to your personal training with proven techniques that work hence it is all about you the customer! The testimonials Fly Fishing guide School page tells you what other folks have had to say over the past 34 years!
The week-long class is tailored to cover everything you will need to increase your journey as an angler! I have set a very high standard over the years as the first licensed guide and outfitter in the region, hence the testimonials reflect this hard work ethic. There is a heavy emphasis on fly casting, reading water, rigging, subtle clues in observation, multiple techniques applied to certain water types, hook-sets, and playing fish, hence fun awaits you!
Value of Instructional Education
I have been blessed to carve out a living working in a field that I love! The original provider of guided fly fishing trips in North Carolina since 1987! We enjoy teaching the full spectrum the sport of fly fishing has to offer you since the art form is always evolving! The intrinsic value of what you come away with learning is the whole reason to enhance your journey! We have assembled the most talented pool of outdoors educators in fly fishing in the Southeastern Region. Testimonials Fly Fishing Guide School is here to provide you with reviews on these top levels professionals.